Today was the very first day of ERV (Explorer Research Voyage), otherwise described as the journey to every one of the 626 towns in the state. Our mission - to research for the next
Kansas Guidebook for Explorers
.
As a researcher, you come to town to look for guidebook entries - like museums, shops, the cafe, maybe an interesting stone in the cemetery. But here's what happens. You become part of the town. You get to know the people. You fall in love.
Nothing like a classic rural community. That's what we found today.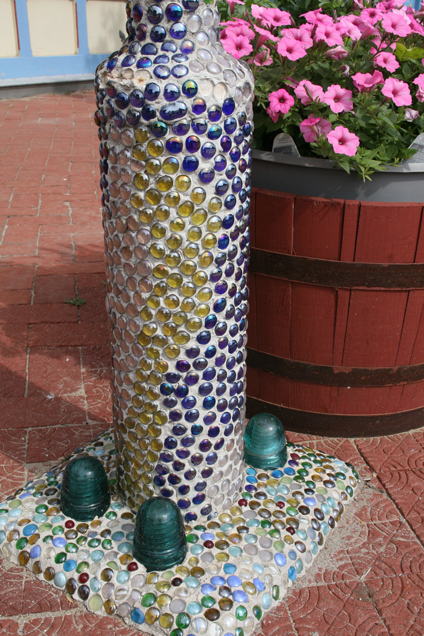 We stepped out of ERV (Explorer Research Vehicle) and were taking pictures of the unique lamp post -- a lamp post that had Mri-Pilar's name all over it. And that's when everything started to happen.
City Clerk Fred stepped out of his office on his way to coffee. He saw us and gave us a huge smile of surprise and delight.
On our way to
City Sundries
with Fred, Mary greeted us in the middle of the street and invited us to her store, which was closed today. We told her we'd come find her later at the grocery store.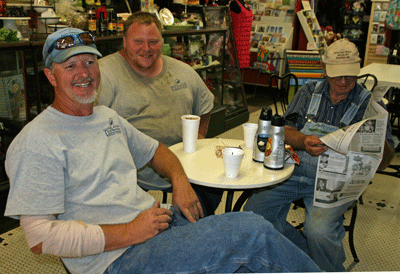 Before we could even order a cherry limeade, the table of city workers started an animated conversation with us.
The most important thing we learned was that Braxton does the mowing and drives the mower to coffee each day.
We also learned that the owner of City Sundries was working at the post office so we went over there to say hi to Kris.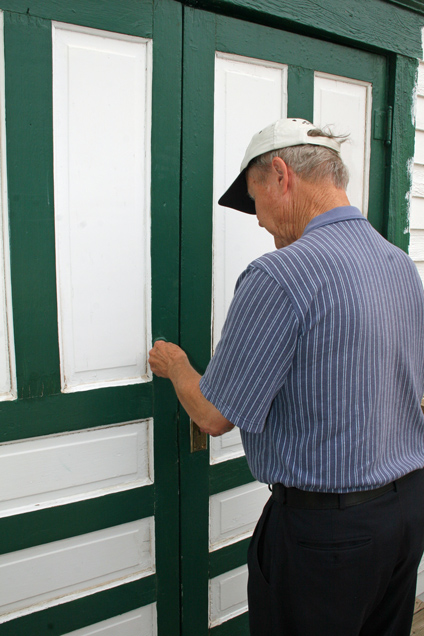 Seeing the three museums was next but they were closed. As expected, Fred had a key and we got a tour of all three -- city museum, Range Schoolhouse, and Falun depot.
As we were eating a delicious hot roast beef sandwich and a "Just a Plain Ol' Burger Fried on the Grill" (meat ground fresh from the grocery) at the
Valley Cafe
, we were told to eat fast and get to the barber shop before it closed at noon.
This place predates Floyd's Barber Shop in Mayberry! Kenny's grandfather started it in 1906 and at one time his Mom, Emma, sectioned off part of the front room and had a beauty shop in there, too. Kenny just never got around to changing the window sign. A swirling barber pole and the screen door make this place impossible to resist. It'll be in the guidebook.
Kenny and customer Chris were good sports about us invading their space and gawking and asking a million questions. But then we had to put up with their lies and jokes.
To the grocery store (
Piper's Fine Foods
)... Behind the checkout counter was owner Steve holding his new grandson...big ol' Steve just as sweet as could be. Later when we went back, Steve was cutting meat while the customers were taking care of the newborn. Perfect.
Mary opened the
Washington Street Emporium
for us and told us about a robbery in this former bank. As she pulled on the primitive alarm system she explained how it would've worked so many decades ago but the workers at the shop where the alarm connected were out for lunch! At the library, another former bank, Donna took us in the vault and showed us all sorts of fascinating details. We were then compelled to go to the present bank and find Steve and talk about his family's connection to the two former banks.
While we were at the bank, we saw Grocery Store Steve at the teller window. As we both left the bank, he handed us a check for $100. Last week the chamber had voted to be a day sponsor for ERV. Thank you.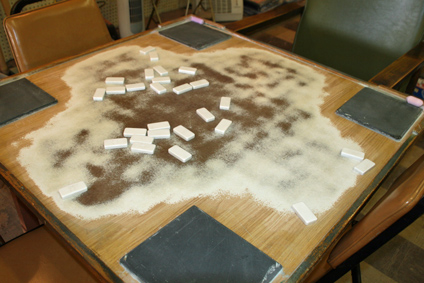 We hoped to catch a domino game at the Marquette Hardware Store but owner Kay told us that only happens on Saturday. But we saw all the evidence.
We asked about the store hours. Kay said they vary depending on when they are out camping with the RV.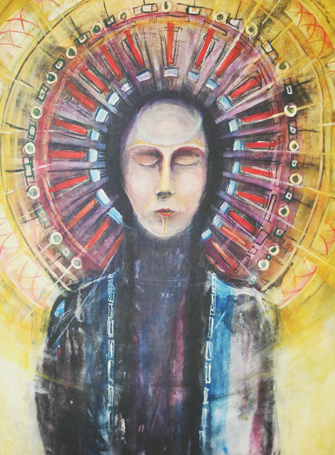 Fred told us that Rich was at the dentist today so we didn't think we'd be able to get into ArtSpace. But, leave it to Fred! He found Rich so we met him at the gallery. While we were visiting with Rich, Catherine came in. She had seen ERV and tracked us down. Then, Pilar heard all the racket and joined us with her latest art project in hand.
LaVona was next. LaVona, 84, is the face of the
Kansas Motorcycle Museum
. We all wish husband Stan was still alive to tell stories but LaVona does pretty well, too. She might look quiet but, boy, does she have some stories to tell.
We were leaving town in ERV when Fred flagged us down. Had we been to the Butterfly Boutique yet? We hadn't so Fred introduced us to Phil. Phil and his wife had moved here from Kansas City as they had always wanted to restore an old building. What a job they have done! Before we knew it, we were upstairs in their loft apartment meeting Phil's wife.
Our last stop was the cemetery. Fred has told us a story and we were looking for corresponding gravestones. We were at opposite ends of the cemetery when a car drove over to WenDee and the guy got out and asked if we needed help. Turns out the guy was Dana, the cemetery sexton! Good thing he stopped. We were in the wrong cemetery. He gave us directions to the Lutheran cemetery and before long he joined us there with the directory and we finally found the Blomquists!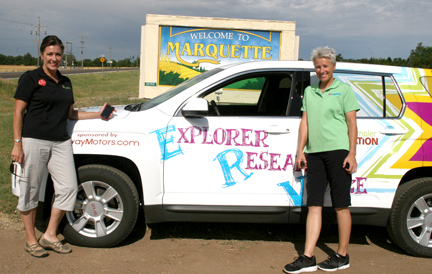 This was our day in Marquette. You just can't orchestrate something like this. They just happen.
625 towns to go. The journey will result in a guidebook...but if you read between the lines you'll see that it really is a love story.
Thanks, Marquette, for giving the ERV journey a great start.
Written by Marci Penner. We're going to every town in the state to research for a guidebook. We want to share some information with you now! This is a project of the Kansas Sampler Foundation.