Yo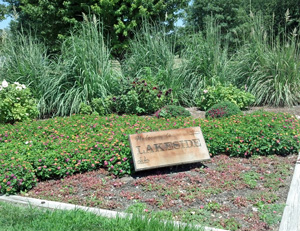 u know how you get used to seeing something so much that you don't really see it anymore? When we stopped at Lakeside Park in McPherson to research I didn't think it would take very long. It's a park, right? Every town has one. This one was a little bit different though and it took us a lot longer than expected. Why? Check out the photos bel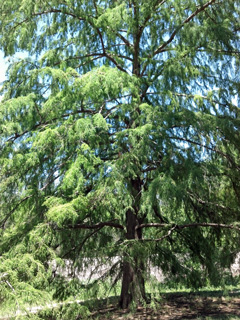 ow and you'll discover why. And maybe the next time you visit your neighborhood park or a park in any community you'll see it with new eyes.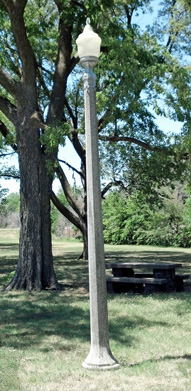 Lakeside Park was created in 1934 and is the site of the famous McPherson Scottish Festival held each year in September. For information about this event go to
www.macfestival.org
.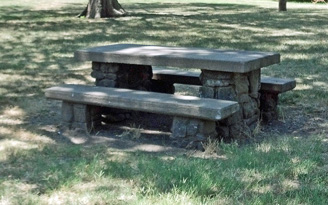 Like many parks it boasts beautiful old trees, lamp posts and park benches.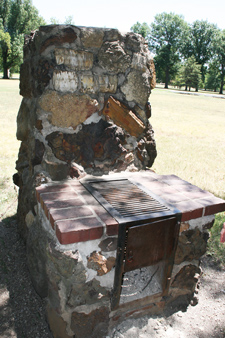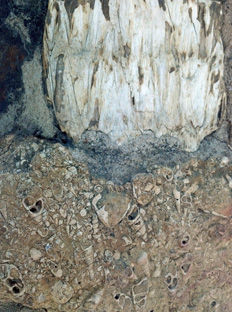 But one of the fun finds of the day were several picnic grills made out of Dakota Sandstone. Stamped on the metal door of each was "The Homer Garden Grill." One we inspected had unusual pieces used in it's construction including what we think is petrified wood and some sort of concretion with thousands of seashells. Take a look a close look. We haven't found out anymore about these but research will be ongoing! Were some of these built by the WPA?
The park bandshell was built in 1939. The red and white flowers planted in front really popped on a hot summer day. The yellow hibiscus in the middle was like the cherry on top of a purple petunia sundae!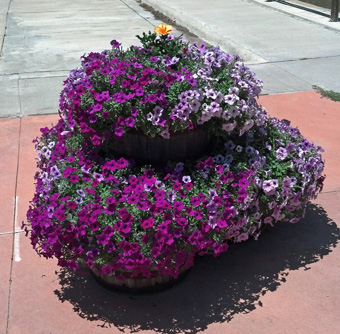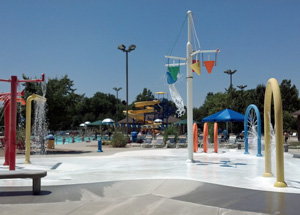 The well designed water park was getting lots of use judging by the amount of bicycles parked out front.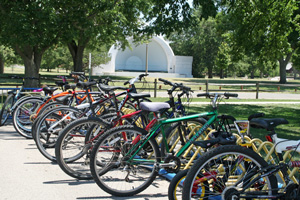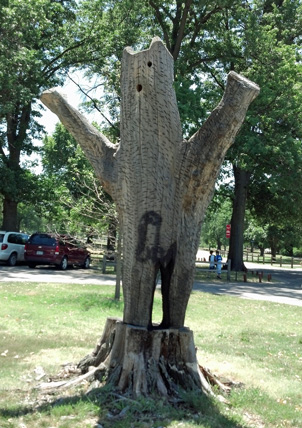 You don't see this kind of thing everyday. We weren't able to find out a story on this tree sculpture but I'm sure we'll find out and let you know. The back side reminded me of a wooden Gumby!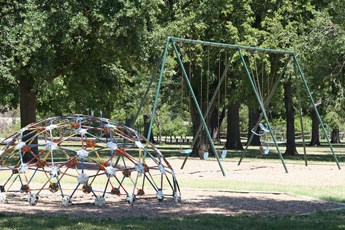 Vintage playground equipment is always fun to find.
You just have to get your feet wet on a hot summer day.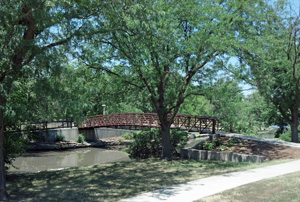 This park has lots of water features found throughout the grounds.
But the best part we found as we were leaving the park. How many other parks plant corn in the middle of a flower garden?
The things you see in a park!
Written by WenDee LaPlant. We're going to every town in the state to research for a guidebook. We want to share some information with you now! This is a project of the Kansas Sampler Foundation.