Kansas Sampler Festival
OPENING CEREMONIES
Saturday, May 4, 2013
Main Stage, Light Park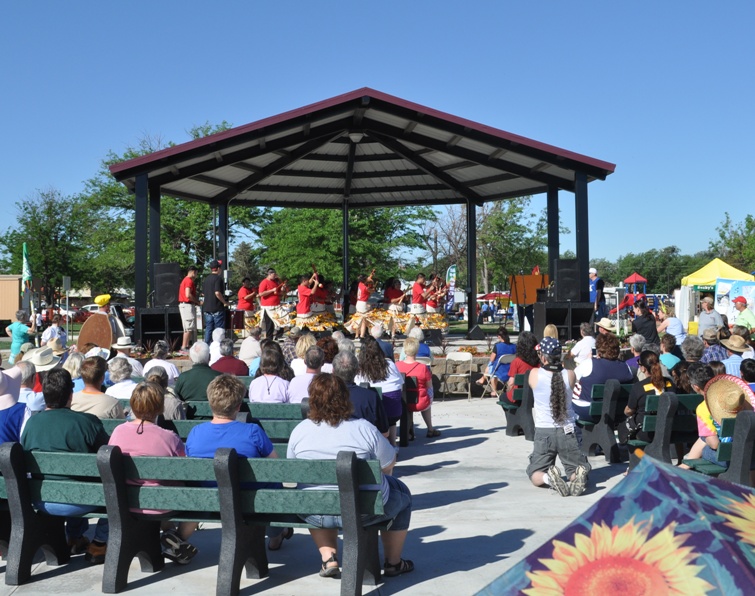 9:00 a.m. - Everyone is invited to join us for the Kansas Sampler Festival opening ceremonies.
Remarks by local dignitaries, the annual Parade of Community Flags and a special presentation by the Liberal High School Drumline will be part of the ceremonies.
The festival exhibits will not open until 10 a.m. so exhibitors can attend the ceremony.
The local matachinas dancers performing at


the 2012 Opening Ceremonies.



9:00 a.m. Joe Denoyer will ask everyone to stand for presentation of colors.
9:01 a.m. The Liberal Police Department Honor Guard will present the U.S. Flag and theKansas flag on the stage.
9:05 a.m. Joe will lead the audience in the Pledge of Allegiance.
9:08 a.m. Janie Kitch will sing the National Anthem.
9:13 a.m. Steve Leete will sing "Home on the Range" as the community flag bearers march in and line-up around the seating area.
9:17 a.m. Joe will recognize the dignitaries who will be seated directly in front of the stage. Each will wave as his or her name is announced.
9:25 a.m. Joe will announce Mayor Dave Harrison.
9:26 a.m. Mayor Harrison will do an official "Welcome to Liberal" address
9:30 a.m. Joe will introduce Marci Penner.
9:31 a.m. Marci will give welcome to the 24rd Annual Kansas Sampler Festival.
9:35 a.m. Joe will cover housekeeping items: severe weather procedures, first aid station, etc.
9:38 a.m. Liberal High School Drumline will perform.
9:55 a.m. Community flag holders will post their flags and the ceremony ends.
978 Arapaho Rd. Inman, KS 67546
Phone: 620-585-2374