We Kan!
WeKan!Network
Mark your calendars now and plan to attend the Big Rural Brainstorm,
March 7, 2016 in Newton at the Meridian Center
---
WeKan!Network
The We Kan! Network is a support-and-resource organization for grassroots efforts statewide. Our interest is in supporting rural communities to be the best they can be at being themselves.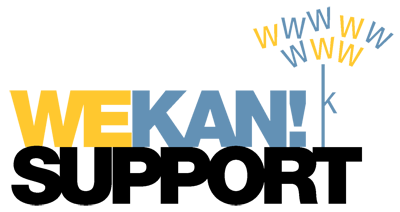 WeKan!Support is a crowdfunding site for Kansas community projects that can help support through fundraising or finding volunteers. Learn more at
wekansupport.com
.
The online e-blast is designed to share grassroots efforts, ideas, contacts, resources, and attitudes to help strengthen rural Kansas, especially in the areas of explorer tourism and community development. Sign up
here
.
This organic movement to connect and engage 21-39 year olds who are rural by choice is designed to help this age group thrive as well as to sustain rural communities. PowerOns (40+) are a big part of the equation and are needed to encourage and empower. Learn more at
ruralbychoice.com
.
Big Rural Brainstorm
No keynote speakers, no formal agenda. Just 200 people sharing ideas on how to move rural Kansas forward. The next one is March 7, 2016 at the Meridian Center in Newton.
The conference is planned to be especially relevant for rural communities. The majority of speakers are from rural communities and they present successful efforts.
Since 1993, ten recipients have been presented awards for excellent efforts in preserving and sustaining rural culture.
See the list
.
978 Arapaho Rd. Inman, KS 67546
Phone: 620-585-2374